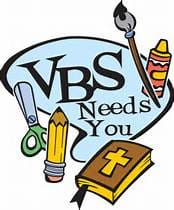 Vacation Bible School Needs You!
Vacation Bible School Meeting
Next Sunday, June 26, at 5:15 p.m.
If you would like to help with VBS or Teen Time (July 17-21), please fill out a "Volunteer Worker Sheet" located on the back table. Please put completed forms in the basket.
How can I help with VBS/Teen Time?
* Most important of all pray for VBS!!
* Help hand out 1,000 VBS flyers!
* Volunteer! We need teachers, drivers, all around helpers, Cookie Army Leader, cookies, setup, meals for the Rickard team, actors…
* Help provide Prizes!